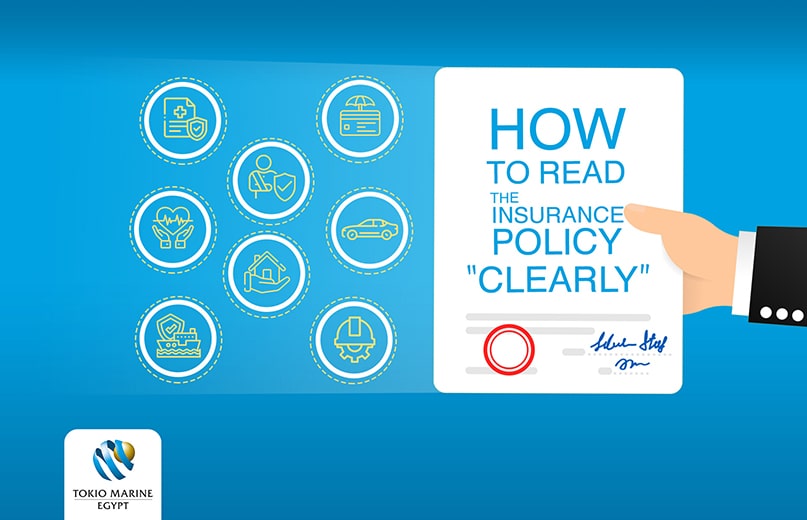 Most important 8 points to focus on in any insurance policy
There are many types of insurance in Egypt and worldwide like life insurance, car insurance, health care insurance, travel insurance, fire insurance, etc…
And each insurance type varies in its terms and conditions according to the insurance policy type.
What is an insurance policy?
An insurance policy is a legal contract between the insurance company (the insurer) and the person(s), business, or entity being insured (the insured).
When you read your insurance policy, you can verify that the chosen insurance policy meets your needs and that you understand the insurance company's responsibilities in case of any loss or damage.
What should you focus on in your insurance policy?
After choosing your best-fit insurance type, you should focus on some points in your legal contract:
insurance amount of money
How much stuff you are covering
Your deductible
Definitions of insurance terms
What is covered under your policy
What is not covered under your policy
The Basics of an Insurance Contract
There are three basic parts to an insurance policy:
insurance policy schedule
Exclusions
Conditions
You should note that multi-peril policies may have specific exclusions and conditions for each type of insurance, such as liability coverage, collision coverage, health care payment coverage, comprehensive insurance, and so on.
insurance policy schedule
This is usually the first page in any insurance policy which includes the name of the insured, the type of risk or property covered, the policy limits, the policy period (i.e.
the duration of the insurance policy), and other pertinent information.
For example, the declarations page of an auto insurance policy will include:
The description of the vehicle covered such as the model and VIN number.
The name of the person covered
Insurance amount of money
The Exclusions
Exclusions take coverage away from the Insuring Agreement, and the three main types of exclusions are:
Excluded perils or causes of loss
Excluded losses
Excluded property
For example:
floods, earthquakes, and nuclear radiation are common examples of excluded risks under a homeowners insurance policy.
Damage due to wear and tear is a common example of an excluded loss under automotive coverage in a car insurance company policy.
Personal property such as a vehicle or a pet are examples of excluded items under a homeowners insurance policy.
The Conditions
Conditions are clauses in the policy that qualify or restrict the insurer's guarantee to pay or perform. The insurer may refuse a claim if the policy criteria are not satisfied.
Common insurance policy requirements include the necessity to file proof of loss with the company, secure property after a loss, and assist with the company during an investigation or defense of a liability case.