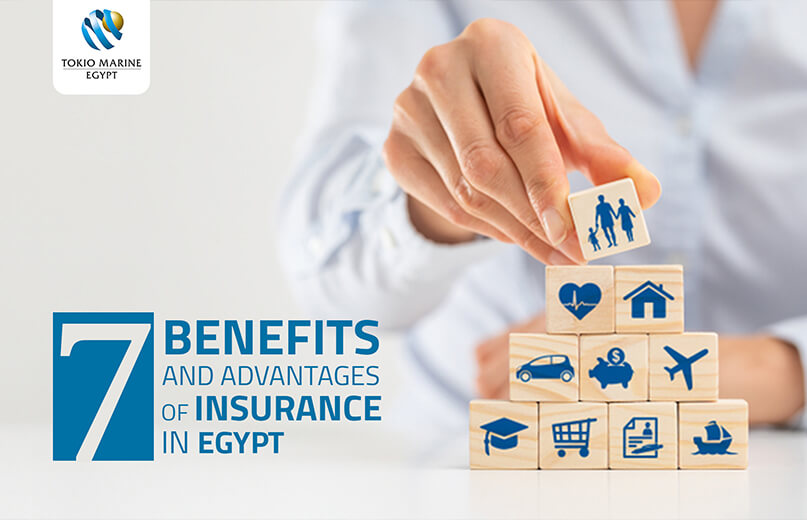 Top 7 insurance benefits and advantages in Egypt
One of the most Important insurance benefits is that it helps us to overcome risks that we may face in our daily lives because insurance companies bear the financial burden arising from the occurrence of these risks in exchange for certain instalments.
The fields of insurance have been developed and expanded to include many different sectors, allowing individuals to have insurance for their health, cars, and other belongings to deal with the many risks they may face such as traffic accidents, sickness, theft, etc.
Most common insurance benefits in Egypt and worldwide
The insurance benefits are many, but we can summarize them in only 7 points:
Maintain savings.

Guaranteed stability of work.

Effectively manage risks.

Protect your future and your family's financial future.

A profitable and guaranteed investment like other types of investment.

Insurance makes it easier for individuals to obtain loans from banks.

Psychological benefits such as "inner peace" when you ensure that you can count on something in case of any sudden financial or health risks.
Certainly, the benefits go beyond the previous points, and we can write several pages talking about them, but these points are for example, and not as a limitation.
Insurance benefits in the health care sector
Coverage against medical expenses.

Coverage against critical illnesses.

Less worrying about getting sick, because you know you're covered.

Many kinds of medical tests will cost you less if you are covered in health care insurance.

Insurance benefits for women are varied to include a large part of the childbirth costs.
Car insurance benefits
Car insurance benefits cover your financial and legal liabilities towards third parties. Comprehensive insurance covers your vehicle in the event of an accident, fire, theft, cyclone, flood, etc.
Here are five major car insurance benefits:
Coverage of the damage or loss to the insured vehicle.

In case of an accident, you need to know that you are covered for any property or bodily injury costs that may be incurred.

Your car insurance benefits will safeguard you from needing to negotiate with other drivers and landowners involved in the accident and dealing with the expenses associated with vehicle repair or replacement.
Property insurance benefits
A loss of a valuable asset can seriously worsen your financial situation if you fail to protect it. Even more so if you do not have a sufficient emergency backup fund.
Property insurance benefits cover many things like:
Building

Jewelry and other valuable items.

Household equipment and furniture such as a table, television, air conditioner, or other electronic devices.

Protection for personal accidents caused by damage to the building incidents.
Fire insurance benefits
The purpose of fire insurance is to provide protection for house and business assets, furniture, and business buildings.
Fire insurance benefits include many important features like:
Giving some amount of money as damage compensation for the building.

Sometimes a fire can damage electronics such as a television or computer, so the insurance company can replace or maintain the damaged devices.

Some policies may also cover sustained injuries on the property
Anyone can obtain fire insurance benefits if their property is lost, damaged, or destroyed during a fire. Why do we buy fire insurance? It allows a business person to save and cover the cost of replacement, repair, or property reconstruction above the limits of their property insurance policy.
Is there glass breakage insurance like fire insurance?
This question is one of the most popular questions asked for many insurance companies in Egypt, and the answer is yes, for sure.
There is insurance against broken glass, just as there is insurance against fire and insurance against burglaries.
One of the most important glass insurance benefits is to compensate the owners of shops and companies for losses of glass damages as a result of an accident that leads to glass breakage or as a result of a customer mistake in the stores that sell glass products or breakable products like in crystal stores.
And for sure, the compensation shall be within the limits of the amount and terms of the insurance policy.
In the end, do not think of insurance instalments as an unnecessary monthly expense that increases your financial burden, otherwise, you should think of the various insurance benefits and choose the insurance type that suits the future needs that can help you avoid unexpected expenses that were not taken into account in the future without affecting your basic savings.