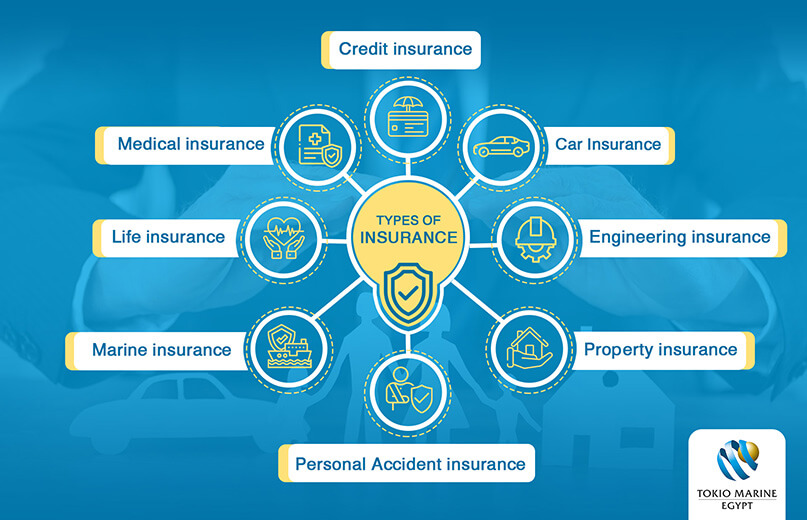 Most Popular Insurance Types in Egypt
Since the inception of insurance, people have witnessed the growth of its types and branches.
and in this article, we discuss the most popular types of insurance simply and easily…
But before talking about the insurance Types, we will explain what insurance is first.
What is insurance:
We can explain insurance in more than one way, but if we want to explain it simply, we can say:
Insurance is a system that aims to reduce the size of losses resulting from any accidents or phenomena that people can't control, to protect individuals or institutions from these accidents or dangers by distributing the burden of these dangers that happened to one person to a group of people.
This system aims only to reduce financial losses By following this risk distribution strategy.
As we mentioned, insurance has many types. Below we will discuss the most important and most prevalent types of insurance in Egypt and the Arab world, then we will elaborate a little on each type of insurance.
What are the insurance types:
Life insurance.
Personal Accident insurance.
Credit insurance.
Engineering insurance.
Property insurance.
Medical insurance.
Car Insurance.
Marine insurance.
Definition of insurance types:
Life insurance:
This type of insurance ensures protection for people from risks that occur to them personally, such as illness, accidents, or even death, and many other cases.
Accident and liability insurance:
It is similar to life insurance, but it is concerned with insuring someone's property from accidents and risks that may occur in the future, such as insurance on the money of the insured person or coverage of a fault committed by him, or insurance against medical mistakes for example.
Credit insurance:
one of the most dangerous types of insurance for insurance companies, as it is the least beneficial type for insurance companies.
This type, in short, lets the borrower purchase the insurance policy, so when he's unable to complete his loan installments due to any problem that occurs to him, like disability or death, for instance, the insurance company pays the rest of his installments.
Engineering insurance:
This type of insurance covers all risks and accidents that can occur at work sites.
Also, this type of insurance preserves the rights that contractors have towards the owners as the contractor must insure the equipment and machinery to ensure that there is no delay in implementation or delivery and no damage to the owner's rights by the contractor in any way.
Property insurance:
This is explicit insurance for property such as homes, companies, cars, etc.
It differs from accident and liability insurance in that this kind of insurance is specific to a particular thing that a person fears losing or damaging somehow in the future. But, accident insurance is random insurance to avoid any occurrence of danger or accident to personal property in general.
Medical insurance:
This type of insurance contains a lot of benefits for the insured person. These benefits include covering surgeries, hospitalization expenses in general, pre-and postnatal care, and any sudden or natural medical cases.
Car insurance:
It is one of the vehicle insurance types, which protects the insured's car from expected risks and accidents, such as collisions, fire, burglary, or theft.
In some cases, compensation paid to the insured person may reach the full price of the car in case it is destroyed or paying the costs of repairing it if it is possible to repair.
Marine insurance:
It is one of the transportation insurance types, and this one includes risks that can occur to marine transportation, such as shipwreck, burning, theft, hijacking, or damage to the transported goods.
The contract can include coverage of risks on goods, even on land and air.
Of course, it's according to the conditions stipulated in the contract between the insurer and the insured person.